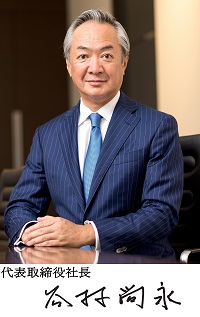 Since our founding, FPG has aimed to be an independent financial services company that serves our clients as true professionals, and has gone on to develop a wide variety of businesses, including the Leasing Fund Business, Real Estate Fund Business, Insurance Sales Business, M&A Business, and more. In particular, the Leasing Fund Business, which is the core business of FPG, we have secured a strong position as a leading company of Japanese Operating Lease.
We are currently working on launching various businesses and expanding our existing businesses with the basic policy of engaging in reforms and taking on challenges to ensure that FPG Group continues to grow sustainably.
In the Real Estate Fund Business, due to the active arrangement of the real estate fractional ownership investment, the amount of arrangement and sales in the fiscal year ended September 30, 2021, reached a record high. And net sales in the Real Estate Fund Business quadrupled from the previous year.
In the FinTech Business, we have been working on developing new products and services utilizing financial and real estate licenses along with digital technology. On April 2021, we launched the salary prepayment service "Q-Kyu", our first FinTech Business initiative.
In the Leasing Fund Business, the arrangement and the sales of operating leases for airlines were impacted in the previous year by the COVID-19 pandemic. However, sales gradually bounced back in the fiscal year ended September 30, 2021, and the net sales in this business were higher than the initial forecast. Despite the ongoing impact of the COVID-19, we have been able to achieve a certain level of recovery.
In the fiscal year ending September 30, 2022, we will continue to aim to increase revenue and profit by expanding the Real Estate Fund Business and improving the profitability of the Leasing Fund Business.
Nowadays, our society faces various issues such as the COVID-19, global warming, and an aging population with a declining birthrate. To solve these global issues, we believe it is important for everyone to work together toward the same goals without being constrained by corporate or national boundaries. To contribute to achieving the SDGs (Sustainable Development Goals) that the international community is striving toward, we have set four priority items such as the contributing to local communities and economies and the implementing environmentally friendly initiatives.
Going forward, we will continue to actively implement our own unique initiatives in these four priority items.
We will keep on pursuing sustainability for our company and society, considering our social responsibility and the impact as a company. We thank you for your continued support and encouragement.
November 2021
Hisanaga Tanimura
CEO and Founder
Financial Products Group Co., Ltd.